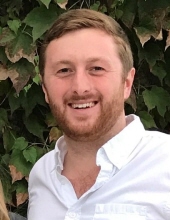 Obituary for Christopher Alan Hard
Our precious son, loyal brother, cherished fiancé, and beloved friend Christopher "Chris" Alan Hard passed away in a tragic accident at the young age of 26 on Tuesday, October 16, 2018. Chris was born in San Antonio, Texas, on October 24, 1991, to Robert Hard and Kimberly Rydel. Chris was engaged to be married to Sarah Morrison of Boerne, Texas, on March 30, 2019.

Chris graduated from Communication Arts High School in San Antonio in 2010, and received his Bachelor's of Science in 2014 from Texas A&M University where he majored in Industrial Distribution. He had a life-long passion for vehicles and began repairing and selling cars in high school. While he was in college, he held an internship at Ken Batchelor Cadillac of San Antonio and began his career as a salesman there. In 2016, Chris started his dream job as a Sales Manager at Mark Motors in Boerne where he was instrumental in the creation and development of the company. He strived to find the perfect car for his family, his friends and his customers and it gave him great pleasure to know that they were enjoying their vehicles. It was Chris's way of showing care and therefore it's no wonder that his customers often transformed into his friends.

Chris was happiest when he was with his family and friends. He enjoyed the outdoors, visiting his fiancée's family ranch, spending time on his boat at Lake Placid, Texas, and driving his cherished yellow Porsche. Chris grew up with golden retrievers and loved dogs. He shared a special bond with his and Sarah's boxer puppy, Koda, who also passed away in the accident.

Chris is survived by his parents, Robert Hard and Kimberly Rydel, and his younger brother Benjamin. He was taken from them much too soon. Chris will be forever missed by his fiancée Sarah, her parents Paul and Corise Morrison and brother Michael. Chris is also survived by his maternal grandfather and step grandmother, Albert S. and Charlsie Rydel of Mount Holly Springs, PA; his paternal grandmother, Elsie Proctor-Hard of Hendersonville, NC; his aunts and uncles, John and Christina Ritch of Washington, DC, Tom Kirk and Patti Hard of Harrodsburg, KY, Lisa Rydel of Guntersville, AL, John S. Hard of Berkeley, CA, and Jim and Mary Hard of Athens, AL. He is also survived by his cousins, Nina Ritch Boland, her husband Mike and their sons, Samuel and Jack of Washington, DC, Alyssa and Jan Ritch-Frel of Brooklyn, NY and Haley and Ben Shelley of Auburn, AL, Katie Hard of Nashville, TN, Wesley Hard of Minneapolis, MN, and Matthew Hard of Auburn, AL.

Visitation will be on Friday, October 19, 2018, from 6:00 to 8:00 p.m. and the Funeral will be on Saturday, October 20, 2018 at 10:00 a.m. Both will be held at Ebensberger-Fisher Funeral Home with interment following at the Boerne Cemetery. Pallbearers will be Ben Hard, Nathan Ardizzoni, Mario Addari, William Buzzelli, Brian Gessley, Lee Clarac, Michael Morrison, and Thaddeus Coryell. In lieu of flowers, the family requests donations be made to Camp Camp at https://www.campcamp.org/programs/summer-camp/; Cibolo Nature Center at https://www.cibolo.org/;SNIPSA at https://www.snipsa.org/, San Antonio Youth at https://sanantonioyouth.org/youthbuild/ or Hill Country Youth Ranch at https://youth-ranch.org or the charity of your choice.

To leave condolences for the family, please visit www.ebensberger-fisher.com.
Arrangements with Ebensberger-Fisher Funeral Home in Boerne.
Previous Events
Visitation
Ebensberger-Fisher Funeral Home
111 Rosewood Ave.
Boerne, TX 78006
Funeral Service
Ebensberger-Fisher Funeral Home
111 Rosewood Ave.
Boerne, TX 78006
Memorial Contribution