We are a part of your community.
Below is a list of events, activities and seminars that we are involved in.
September 2017 Events
Free Advance Planning Seminar
Sep 26, 2017 06:30 PM
Please be our guest and join us for our free Advance Planning Seminar and get some answers to your questions.
It will be held on Tuesday, September 26, 2017, at 6:30 p.m. at Fair Oaks Ranch Country Golf and Country Club.
(7900 Fair Oaks Parkway, Fair Oaks Ranch, TX 78015)
We will be featuring local experts.
Nikki D. Miller, Attorney at Law with The Law Office of Nikki D. Miller, will discuss legal tools.
Scott Rubin, Fair Oaks Ranch Chief of Police, will discuss senior safety.
Sunshine Andersland, Prearrangement Specialist, will discuss Advance Funeral Planning.
Join your neighbors and friends to gain information. Enjoy refreshments in a relaxing and friendly atmosphere. Enter a door prize drawing.
Advance registration is required to assist us in preparation.
Please call 830-249-2321 to make your reservation as there is limited seating.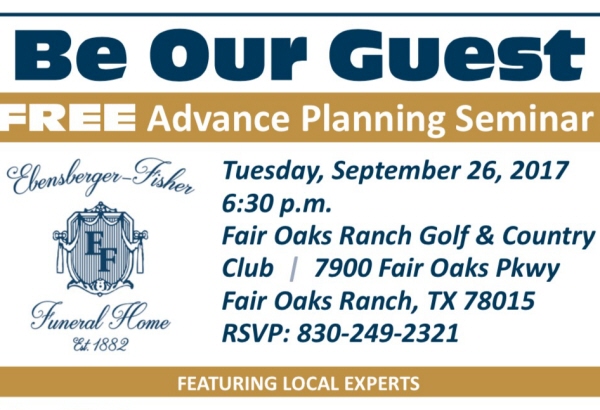 Ninth Annual Holiday Remembrance Service
You and your family are cordially invited to join us for Ebensberger-Fisher Funeral Home's Ninth Annual Holiday Remembrance Service that will be held in either November or December of 2017. Details to come.
For additional information or to RSVP, please contact Jo Lynn or Lisa at (830) 249-2321 or click here to send an email.